I

am an interdisciplinary artist who uses various modes of representation to explore history, culture, perception, and time. I often reference my personal narratives and experiences in my work, blurring the boundaries between traditional and contemporary art. I move fluidly between mediums such as painting, installation, video, and more. My goal is to create work that is accessible and engaging for audiences of all backgrounds.
Thanks for checking out my work.
Gullah, Geechee, Island Series
Anchored in a respect for the strength of their people, the Gullah-Geechee people carry forward their centuries-old traditions in the arts and crafts, language and culture of today.  The art of Amiri Farris honors the hallmarks of Gullah-Geechee culture and helps preserve the richness of this unique way of life.  Amiri states, "The Gullah Geechee people have preserved much of their African cultural heritage.  It is very important that we tell the history of this unique sea island culture."  
Low country bounty 90 x 130 acrylic, and indigo on canvas 
commissioned piece for the culinary institute of the south
In permanent collection at the foodmuseum Bluffton, South Carolina
The FOODseum at the Culinary Institute of the South will host an exhibit  by artist Amiri Geuka Farris.
The exhibit, at the Technical College of the Lowcountry's newest campus, will feature paintings and original works inspired by Lowcountry cuisine and Gullah culture
Gullah, Geechee, land, rice, okra, greens
70 x 120. Acrylic and indigo on canvas, Amiri Farris, 2022
Available $12,500
48x60. Acrylic and indigo on canvas, 
Sold in private collection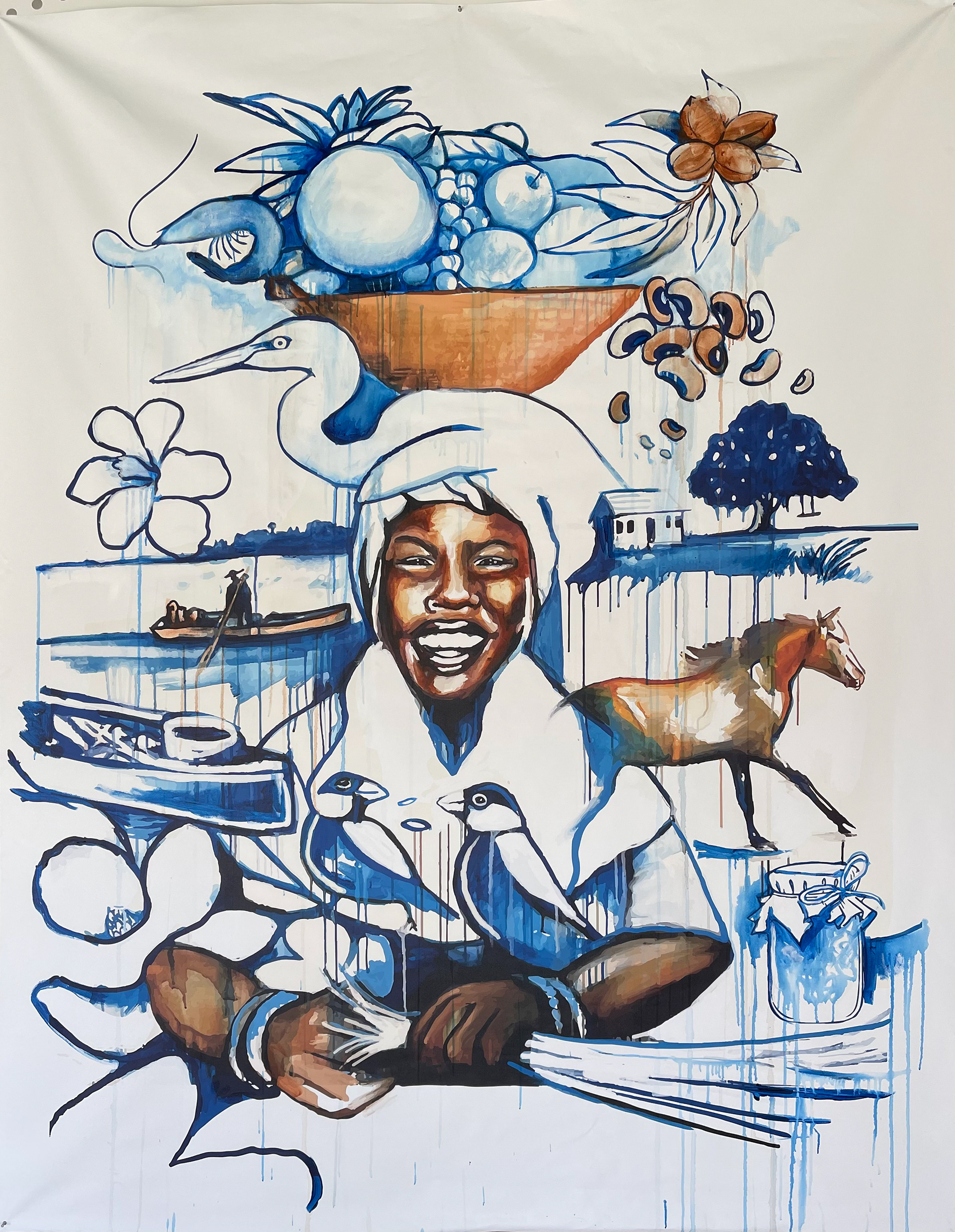 70 x 120. Acrylic and indigo on canvas, Amiri Farris, 2022
Available contact for price
Gullah Geeche island bounty
70 x 120. Acrylic and indigo on canvas, Amiri Farris, 2022
Available $12,500
Gullah Geeche island series
48 x 48. Acrylic and indigo on canvas, Amiri Farris, 2022
Available $8000
 48 x 48. Acrylic and indigo on canvas, Amiri Farris, 2022
Sold in private collection
This series is all about using boxes and recycled materials as inspiration. I create assemblages in viewable spaces, and once the exhibition is over, I box up the materials and move on to the next museum or art space. I want to show that boxes and bags can contain things or move objects from one location to another. That's what I'm trying to do with this series - creating new works of art. I began the series at the Jepson center telfair museum in Savannah, 
The artist's reuse or repurposing of discarded materials seems timely, given the urgent state of global environmental concerns. Second, as a curator, I often muse upon the power concentrated in museums and who is represented within those institutions. Seeing oneself reflected in a collection object, staff member, or museum trustee can be a powerful 
Dr. Jonathan Walz, Director of Curatorial Affairs and Curator of American Art at The Columbus Museum, Georgia ​​​​​​​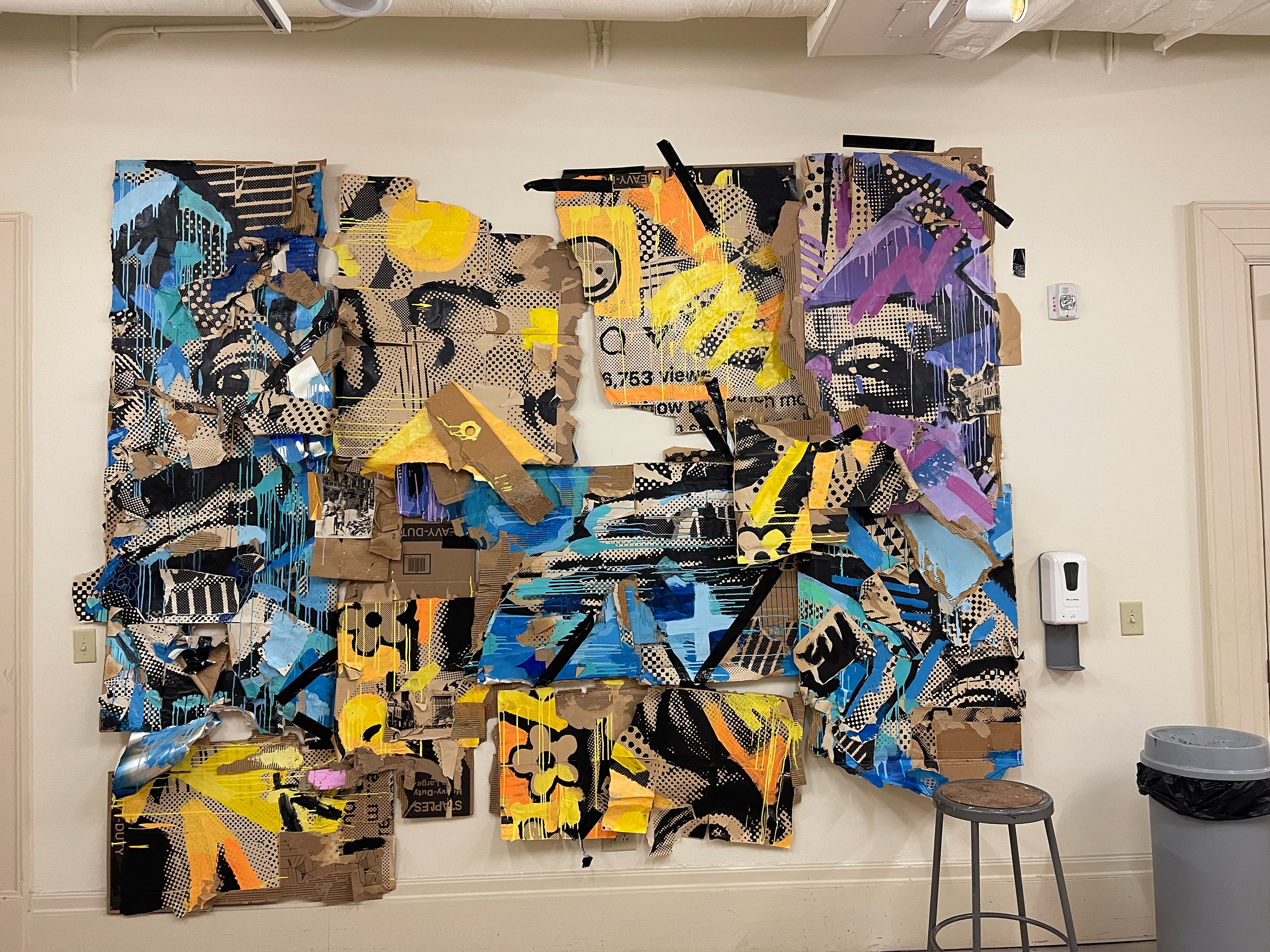 Hey y'all; mixed media including cardboard box, brown bags, printmaking, vintage comics, acrylic paint, ink, glitter;